WoodSpars™ is dedicated to delivering excellence for your mast and spar. After successfully manufacturing hundreds of masts, building extensive expertise in mast construction, we proudly stand as the premier choice in our field. Our offerings span from timeless solid wood masts to cutting-edge, lightweight, and high-performance laminated masts. We are committed to providing you with a wide array of top-quality solutions that match your specific requirements.
WoodSpars™ is renowned for its commitment to quality and unparalleled expertise in mast manufacturing. With over 15 years of experience as a distinguished shipyard, our dedication has led us to specialize exclusively in the production of masts and spars since 2017.
Our pursuit of perfection has been fueled by a culture of innovation and a drive for continuous improvement. Through rigorous laboratory testing, we evaluate the strength and durability of both our carefully selected woods and our glue systems. Furthermore, our team has developed specialized tools, crafted cutting-edge calculation and dimensioning software tailored to mast production, and engineered a one-of-a-kind mast lathe, allowing us to turn masts up to 30 m.
Your satisfaction is our top priority. We highly value maintaining close communication with you, both during the planning phase and throughout the mast construction, in order to meet your individual preferences and requirements. Each mast is treated with utmost care and attention to detail.
Our approach seamlessly blends tradition and innovation to find the perfect solution for you. We offer a diverse selection of locally or tropically sourced woods, with a strong emphasis on FSC-certification, ensuring our commitment to sustainability and environmental responsibility.
Our workshop is equipped with an mast lathe, unparalleled within Europe, allowing our craftsmen to fabricate masts of up to 30 meters in length and 80 cm in diameter in a fraction of the time previously required. The production of a 16-meter mast used to require the effort of two men over 15 days, whereas now, with our mast lathe, a single person can accomplish this in just one day.
Furthermore, our workshop is fully specialized in mast construction. We have optimized every step of the process, employing tailored milling machines, sanders, a state-of-the-art spray painting system, and other advanced tools.
To ensure accurate calculation of mast loads, we have developed a proprietary software. Our design team utilizes this software to precisely dimension and plan your mast. For larger-scale projects, we collaborate with a local engineering firm for design and certification support.
We have gathered extensive experience in mast delivery throughout the years. By building a robust network of suppliers, we ensure efficient and timely delivery.
Additionally, at our base in Locmariaquer, France, we maintain a readily available stock of 20-30 m3 of planed planks and beams. This enables us to promptly respond to your orders.
If you have any questions, please feel free to contact us.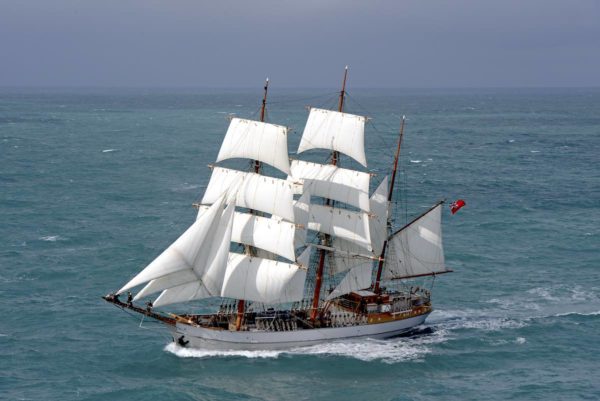 Le Français is one of the last existing traditional tall ships, a 47m 3-masted barque built in 1948. Fitted out by the Marine Events company
WOODSPARS®
Charpentier Marine Morbihan
45, ZA de Kerran
56470 Locmariaquer
WoodSpars™, specialised brand for quality masts and spars.