The brand WoodSpars™ is the solution for the manufacture of all Hollow Wooden Masts and round timber. We work in the performance, innovation and tradition of the wood trade.
WoodSpars™ products are organized around 3 families of round timber. WoodSpars™ Yachting, with laminated masts and many solid wooden spars of all sizes. WoodSpars™ Building with constructive systems, massives wooden poles and handrails and XL custom round beams. WoodSpars™ Garden, our choice of fences, posts and stakes without treatment: chestnut and robinia.
WoodSpars™ is a guarantee of quality and experience in the manufacture of round wooden products . More than 15 years as a shipyard specializing in the construction and renovation of classic and regatta sailboats, today our the refit is over: Our brand offers a wide range of round timber solutions: mats, poles and garden products
We have carried out an extensive research and development program in this field. Resistance stress test of wood, and gluing tests in the laboratory. Many design of special assemblies and machining process have been created. Custom development of calculation and sizing software. Finally the design and construction of a special machine unique in Europe: An amazing Wooden Mast Lathe of 30 meters.
WoodSpars™ products combine innovation with the tradition of wood. They are designed for use in the nautical sector, construction and landscaping. We offer various solutions in local or exotic wood species. FSC certification is part of our responsible quality commitment.
Our workshops also produce glued laminated beams up to 30m in softwood or hardwood for a wide variety of uses. WoodSpars™ Garden – WoodSpars™ Yachting – WoodSpars™ Building
A wood lathe of unique dimensions in Europe. This special machine is able of turning, machining and sawing beams 30m long and 80cm in diameter. The solid wood or BLC beams are machined in the 4 axes. A workshop designed for the optimal manufacture of round timber: customised machines, routing machines and sanders. All the equipment to quickly respond to single orders or mini series: for nautical, construction or industrial sectors.
A software has been developed in-house for the calculation of the loads. This part of the design office can draw, calculate the forces and check the dimensions of the wooden parts. An architecture firm comes in reinforcement to design, study and certify large-scale projects.
At WoodSpars™, lead times are much shorter than traditional shipyards. We have a multitude of transport solutions adapted to each parcel.
Based in Locmariaquer in Morbihan in Brittany, we have wood and products in stock. We can respond quickly to your business needs.
We also master the courier chains for small parcels as well as large transport for long parts. 
Just ask us for quotation and freight solutions.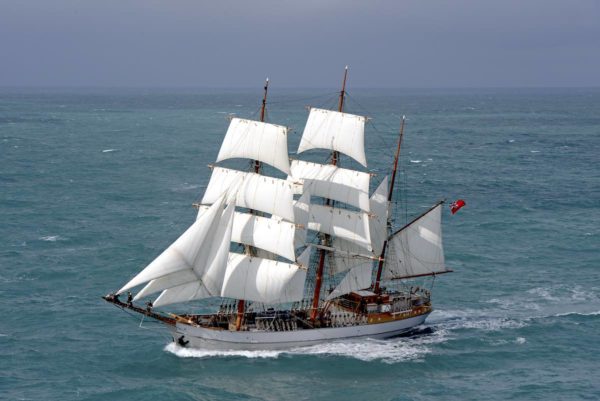 Le Français is one of the last existing traditional tall ships, a 47m 3-masted barque built in 1948. Fitted out by the Marine Events company
WOODSPARS®
Charpentier Marine Morbihan
45, ZA de Kerran
F56470 Locmariaquer
WoodSpars™, specialized brand on wooden lamellae masts, beams and round poles for sailing vessels, buildings utilisations, and many wooden industrial issues.